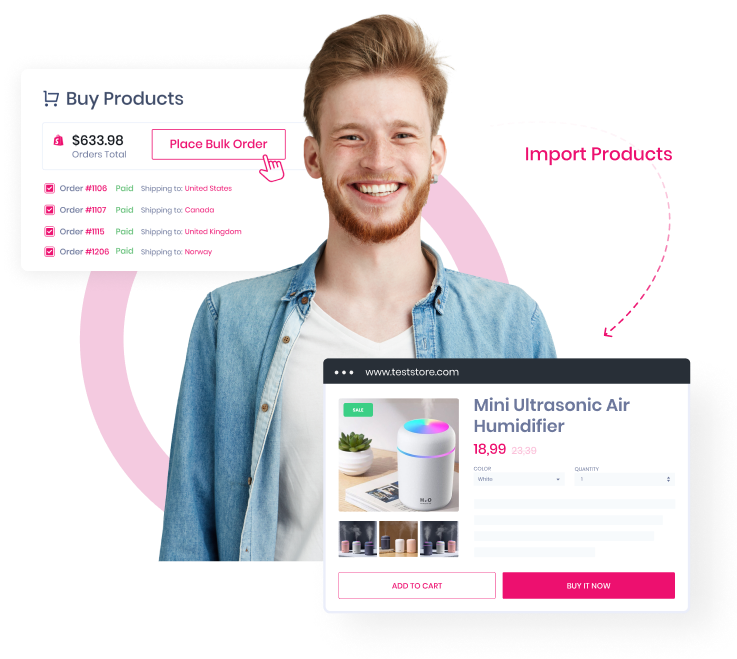 Automated Order Fulfillment
The best way to get your orders out on-time, on-track, and with perfect customer satisfaction— all with an automated system that frees you to run your business.
Start Free Trial
A Dropshipper's Order Fulfillment App.
Automated order fulfillment with Sell the Trend is the best system for dropshipping store owners to ship their products to customers around the globe.
Loaded with features designed with real dropshippers in mind, you'll never worry about another order getting to its destination again- and neither will your customers, which will keep them coming back to you time and time again. Try It Now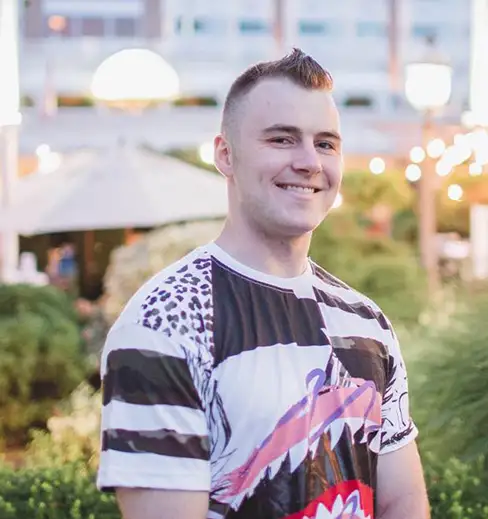 I've done over $100K from Sell The Trend and now have tools for video creation, Facebook targeting, landing page design as well as product research.
---
Kyle Brattan
Member Since 2020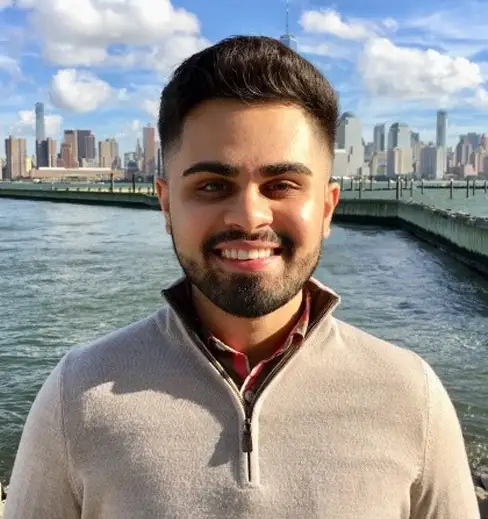 I am projecting products I have found on the site to generate $40,000 in sales by the end of this month. Cheers to Sell The Trend for serving as a platform to easily find winning products.
---
Yash Shah
Member Since 2019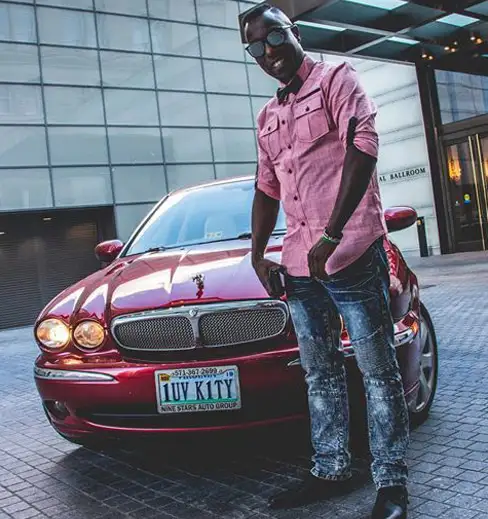 As I close another month with $10,000+ in sales, I cannot forget to thank SELL THE TREND. I want you to know that with persistence, commitment & patience, you can become a "Success Story" too.
---
Nelson Muriuki
Member Since 2020
Key Benefits
Save Time & Reduce Fulfillment Errors
Everything from copying addresses to ensuring shipping info and order contents are correct can be incredibly time-consuming, especially when your store begins to take off. Automating these processes doesn't just save you time— it reduces errors that can lead to unhappy customers.
Get Started
Retain More Customers with a Great Shipping Experience
Automated tracking codes and auto-generated order updates are sent right to customer's email, which all add up to a great customer experience that turns one-off customers into loyal fans of your business.
Get Started
Simplify Your Workflow
Streamline your dropshipping process by managing multiple stores from a single account, seamlessly switching between stores and automating processes across all of them.
Get Started
Discover the Power of Sell The Trend's Order Fulfillment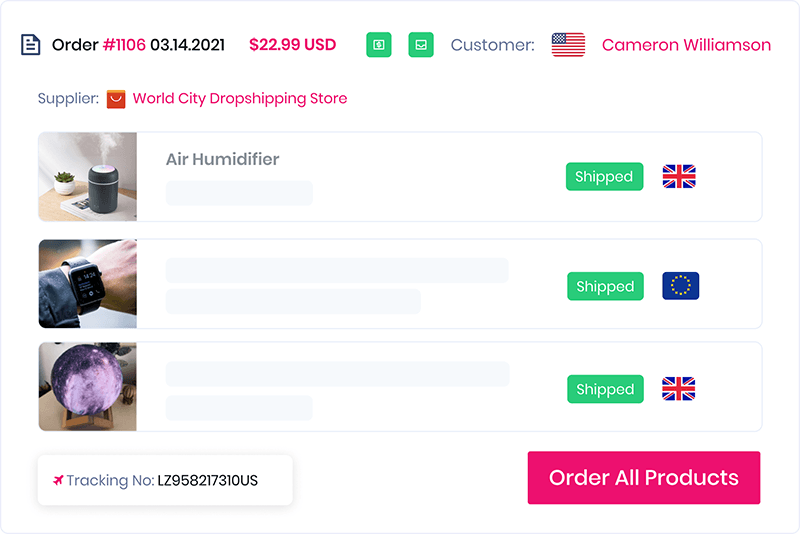 1-Click Order Fulfillment
Once an order shows up on Sell The Trend, it's only one click to send all the order information directly to the supplier.
Get Started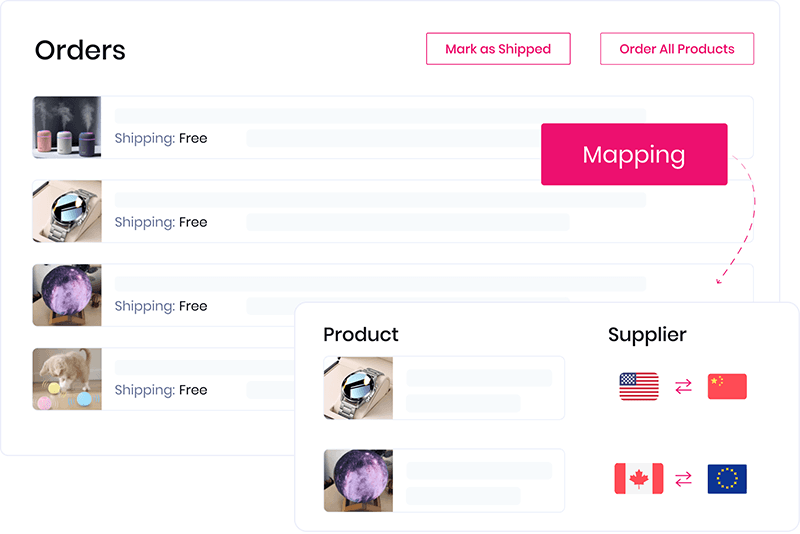 Change Shipping Options On-the-Fly
Instantly shift your shipping options for products, changing from inexpensive overseas shipping or faster local shipping depending on your specific needs.
Get Started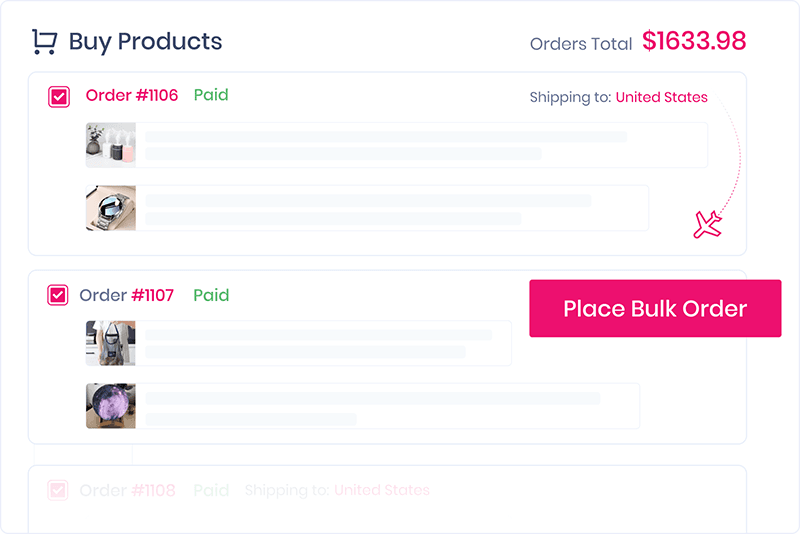 Bulk Order Processing
Process hundreds of orders with a single click with our bulk order feature, the best way to manage large quantities of orders without sacrificing hours of your time.
Get Started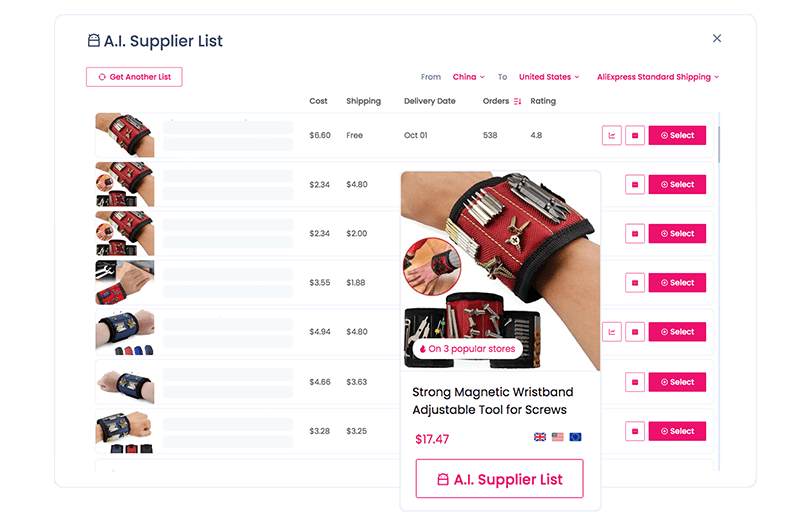 Swap Suppliers in a Flash
Favorite supplier no longer stocking one of your products? Quickly switch to another highly rated supplier from the USA, Europe, or International using our A.I. Supplier List.
Get Started
Frequently asked questions
What is the dropshipping order process?
Here's an example of how the dropshipping order process completes. The customer places the order on the dropshipping store, the dropshipper places the order with its supplier/manufacturer, the supplier ships the order. The dropshipping store then alerts the customer when the order has shipped. The dropshipper keeps profit which is the difference between the sale price and the supplier price. Note that it is up to the dropshipper to set the profit margin.
Can you automate dropship fulfillment?
Yes, there are many order fulfillment platforms and solutions that help you automate the dropshipping process. For example, Sell The Trend's 1–click order fulfillment automatically sends your orders to your supplier and insures they are shipped on-time and on-track - keeping your customers satisfied with end to end delivery tracking.
What is the difference between dropshipping vs order fulfillment?
Dropshipping is a business model in which the retailer promotes, sells, and accepts orders for inventory that the manufacturer/supplier owns. The products are stored, owned, and shipped by the supplier. Order fulfillment is the process of hiring a third-party company to handle the resource-intensive tasks. The order fulfillment company places the order and keeps track of the inventory for the dropshipper.
Check Out More of Sell The Trend's Powerful Features