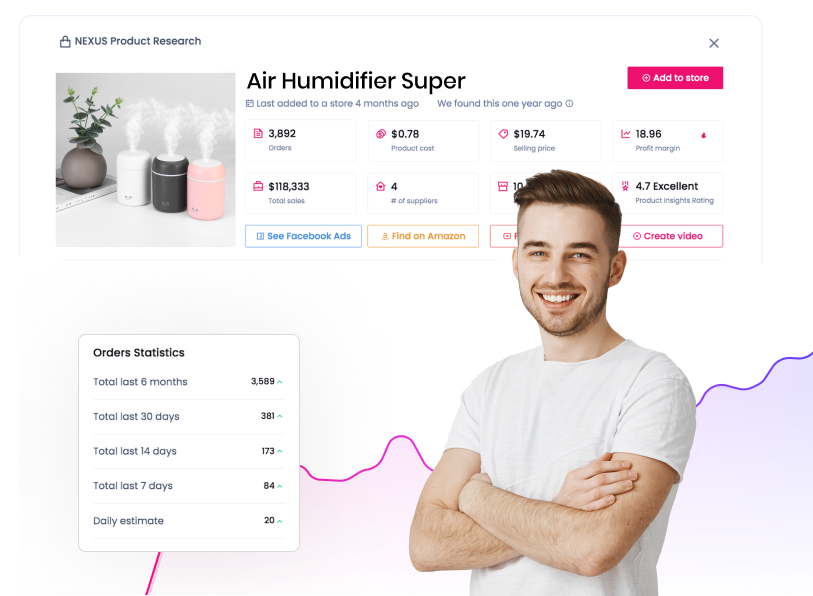 The Ultimate Dropshipping Product Research Tool
Over 7 Million Products.
83 Ecommerce Niches.
A.I. Powered Search & Analytics.
Find Your Winner
Your Complete Resource for Dropshipping Domination.
Sell The Trend offers the most powerful dropshipping product research tool on the market, helping you not only search through a comprehensive database of millions of products but also access advanced analytics, market trends and competition comparisons.
With cutting-edge tools you won't find anywhere else...
What could you accomplish with Sell The Trend? Get Started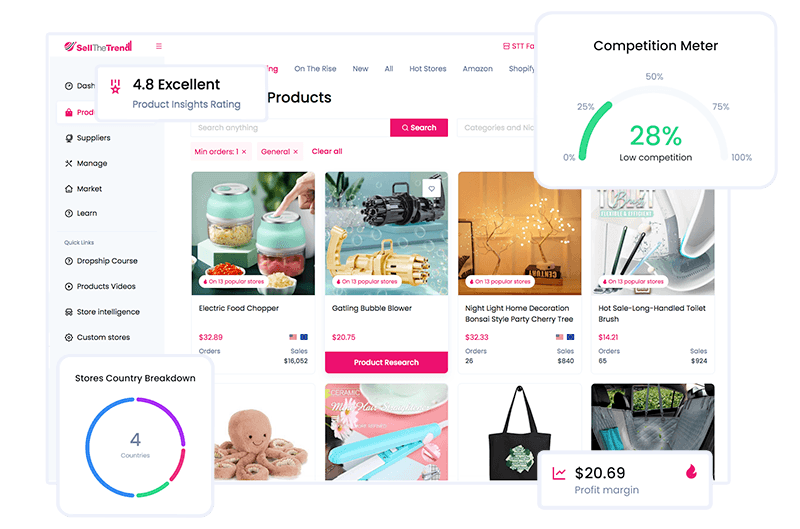 Introducing the NEXUS Product Explorer
The next generation of our massively successful, A.I. powered product discovery tool is here.

With the NEXUS Product Explorer, the most powerful and user-friendly tool ever created for identifying trends, selecting products, assessing competition, and choosing suppliers is at your fingertips.
Learn more about Store Intelligence
Product Trend Explorers
Turn the world's biggest online stores into your biggest opportunities.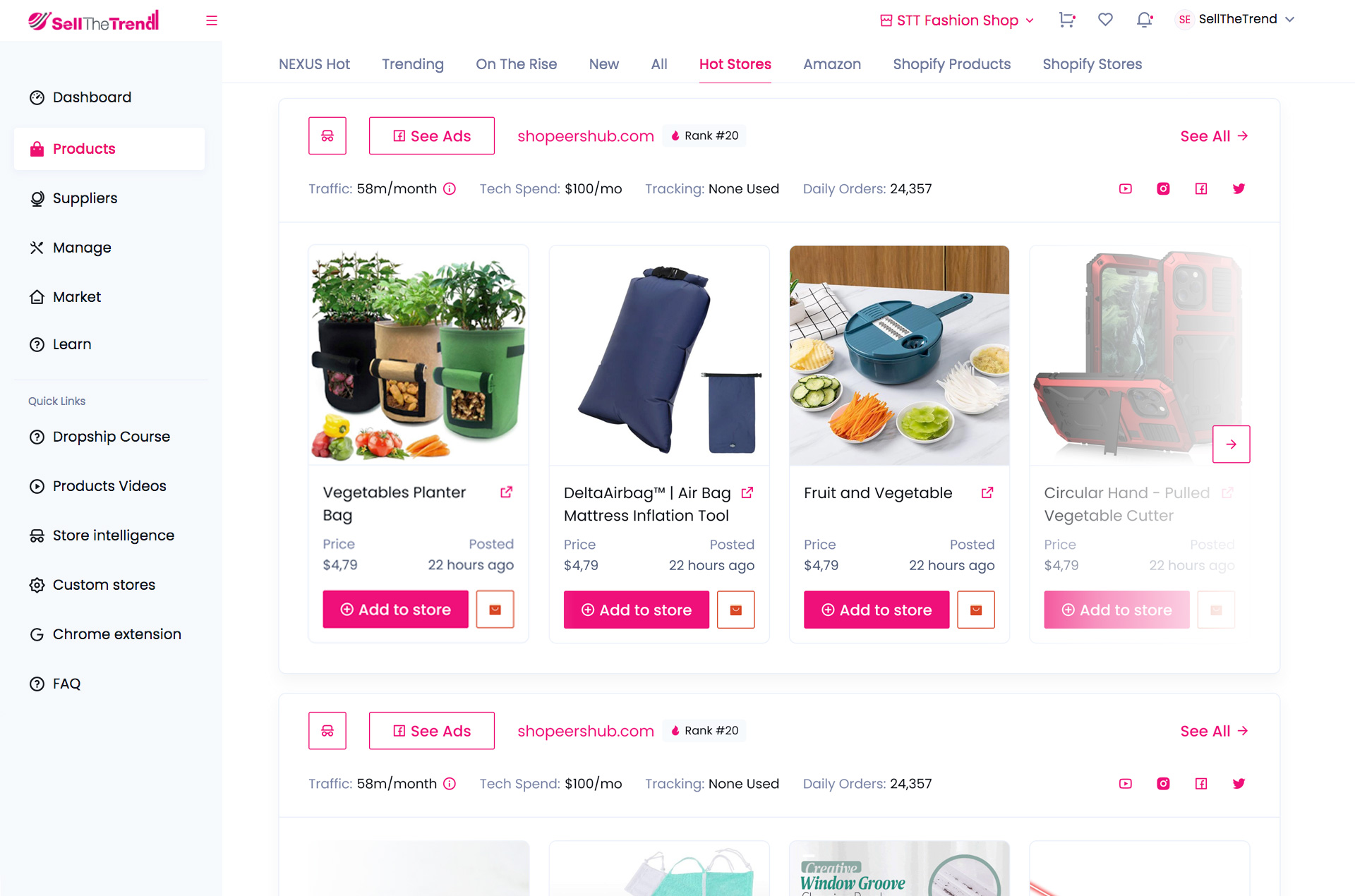 Find What's Hot. Sell What's Next.
With our Hot Store Explorer, you can instantly access data from some of the hottest trending stores online— and harness their keys to success to turn your store into the next big thing.
Get Started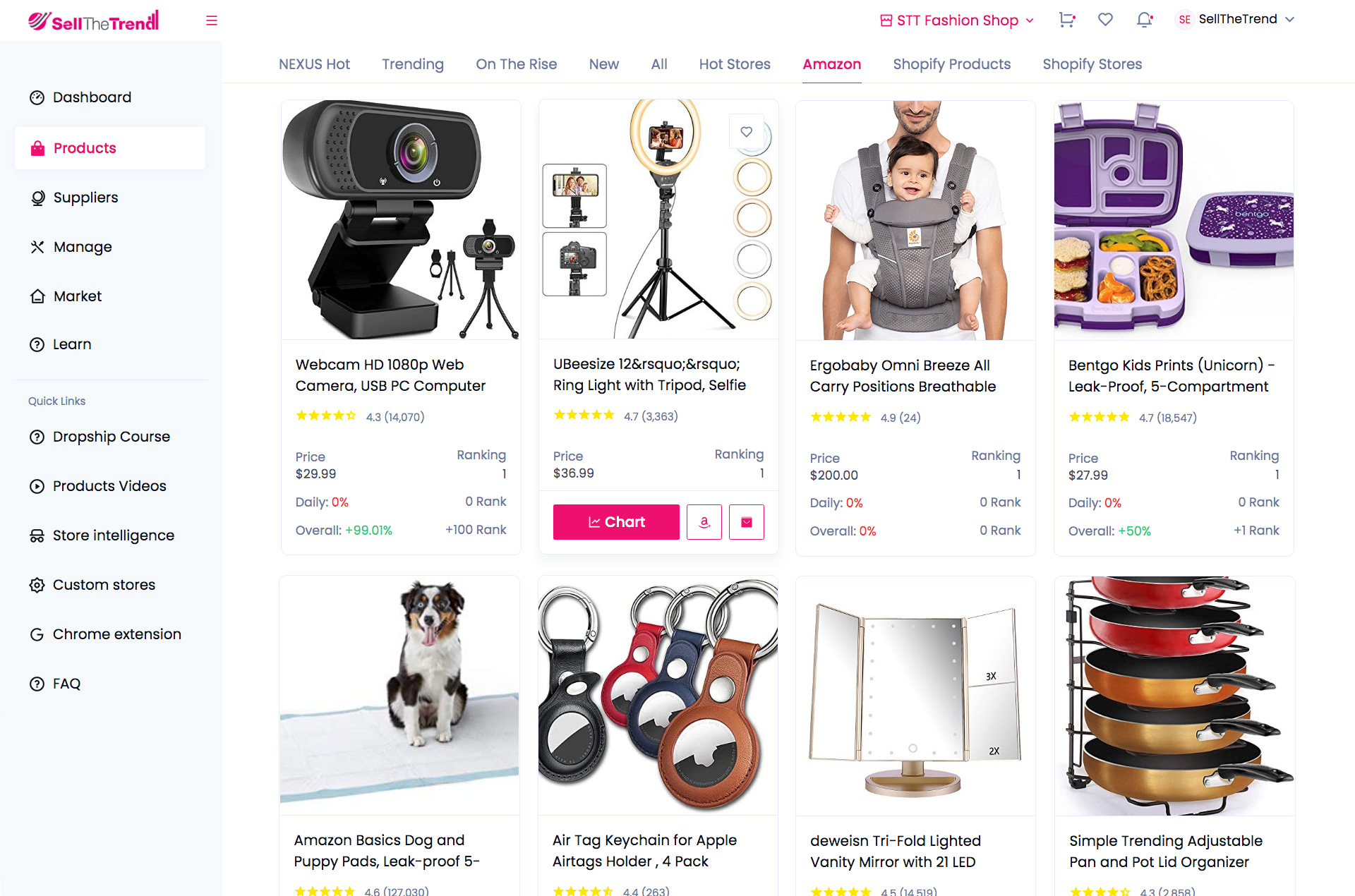 Don't Get Lost in Amazon
Amazon is a massive can't-miss opportunity for dropshippers, and our next-gen Amazon Explorer lets you instantly search and explore the trends, stores, and products that are excelling on the world's biggest online marketplace.
Get Started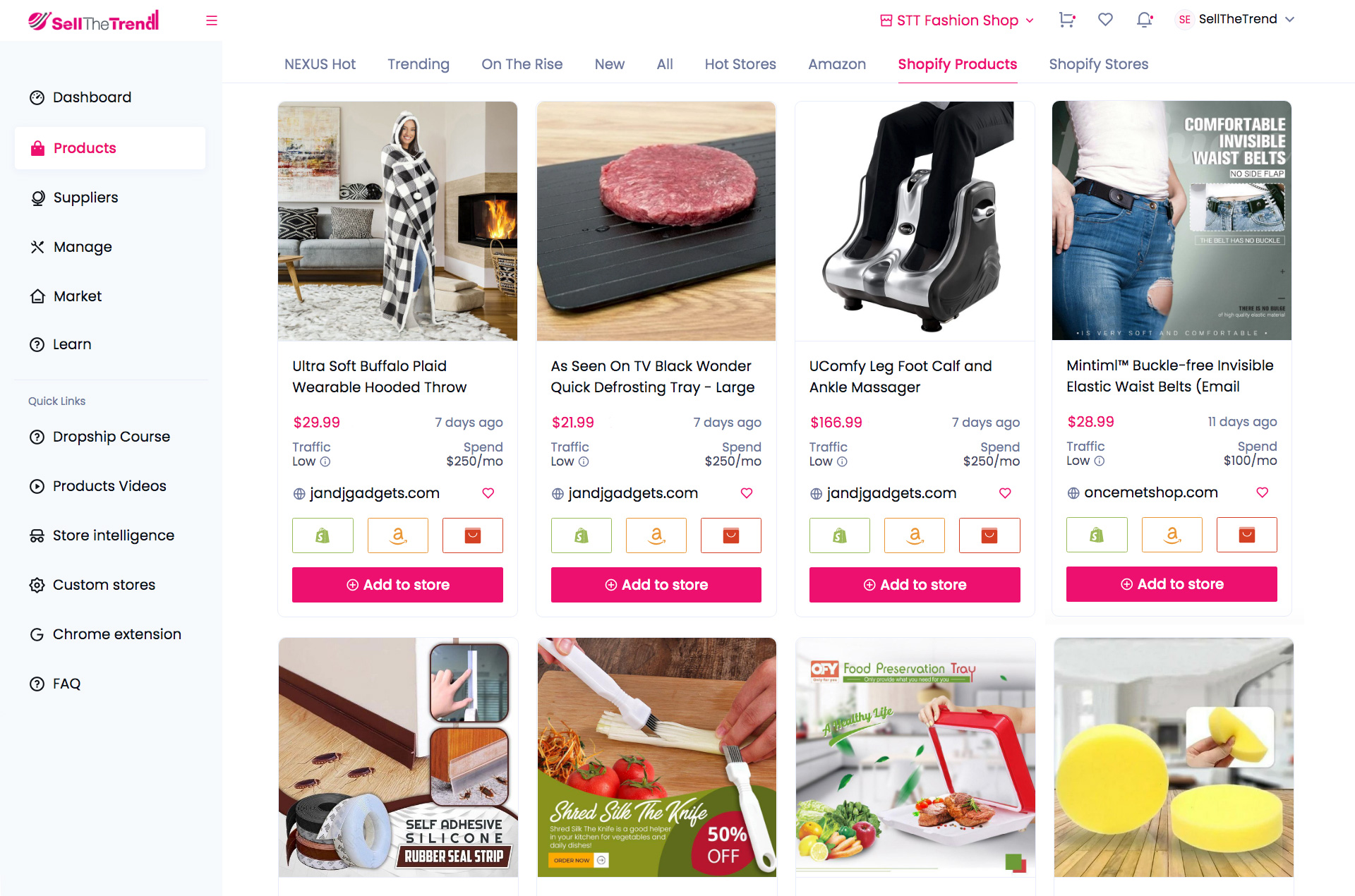 Demystify the Secrets of Shopify
Dominate Shopify with help from our Shopify Trending Product Explorer and Store Explorer, allowing you to access data from the most successful sellers and products on Shopify in seconds.
Get Started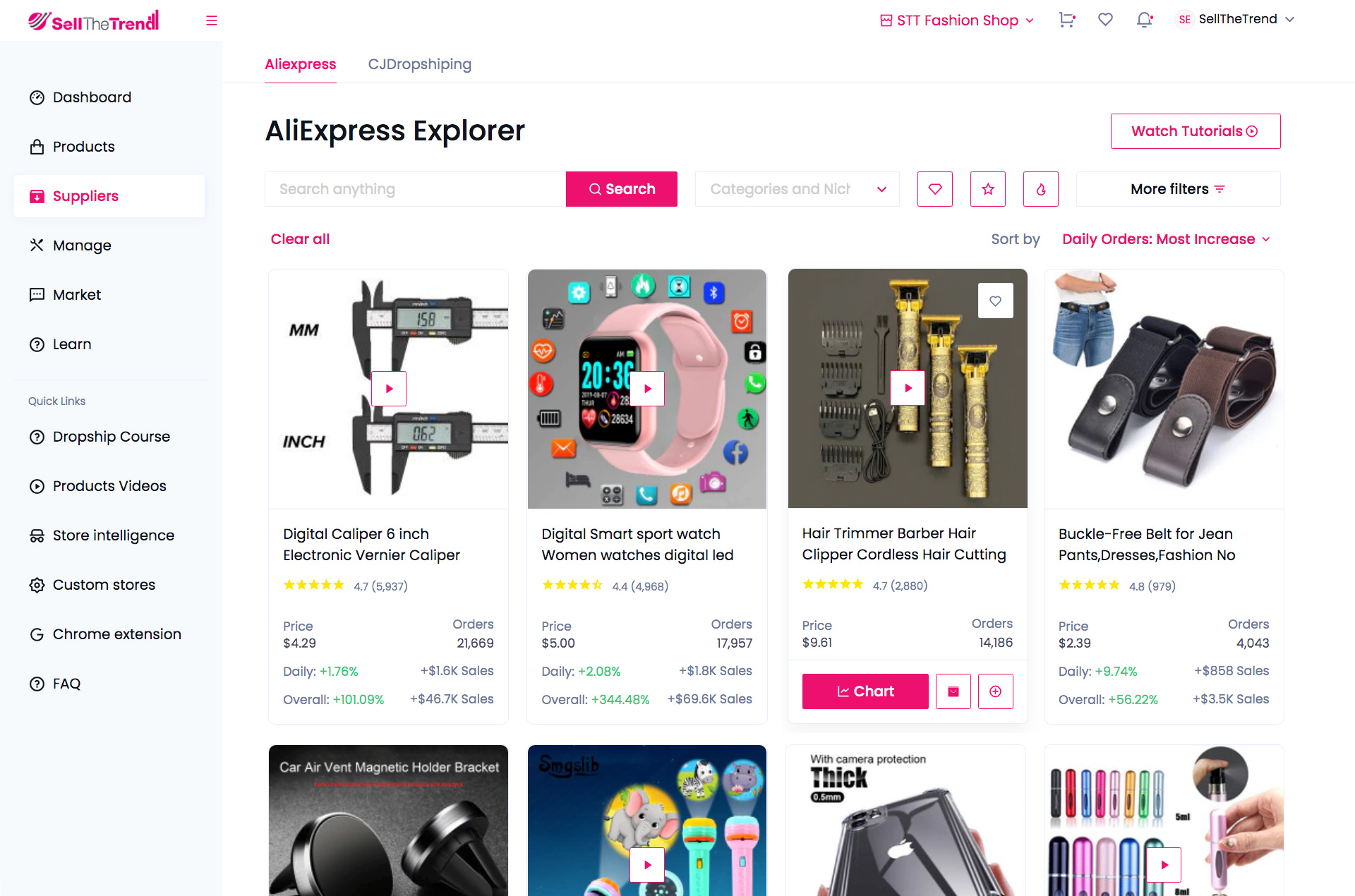 Right Supplier. Right Price. Right on Track.
Access our database of rated suppliers and get the best products on Aliexpress, lightning-fast shipping from CJDropshipping, and more with our Supplier Explorer. Pick from the best US, European, or global suppliers for the quickest, most dependable local shipping where possible.
Get Started
Product Insights
Get the product insights that will simplify your product discovery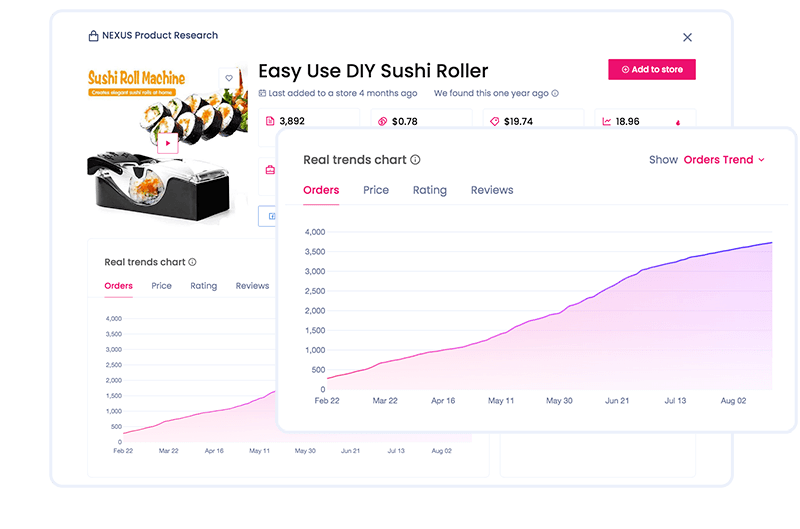 See the Future with Product Trend Charts
There are plenty of products that are selling well but on the decline. You want products that are trending toward an explosion in sales— and Sell The Trend can find them.
Get Started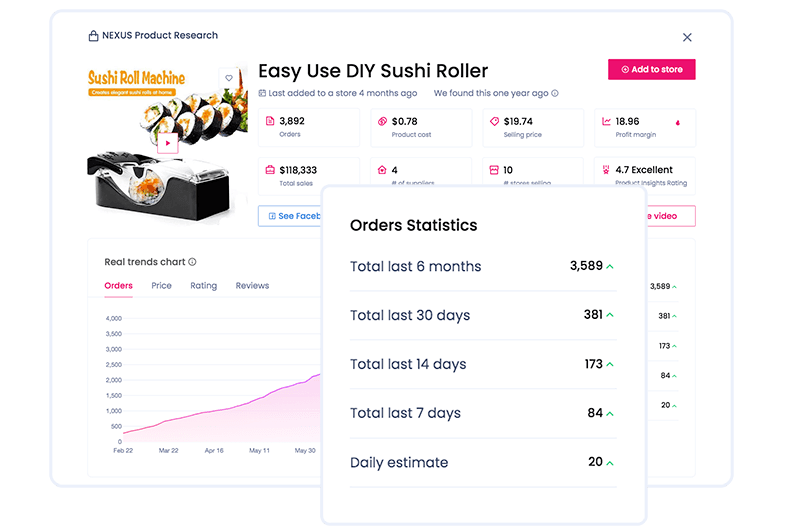 Get Order Statistics for Any Product
With Product Order Statistics, you can instantly see how a product is performing— and whether there's room for another store to get in the game.
Get Started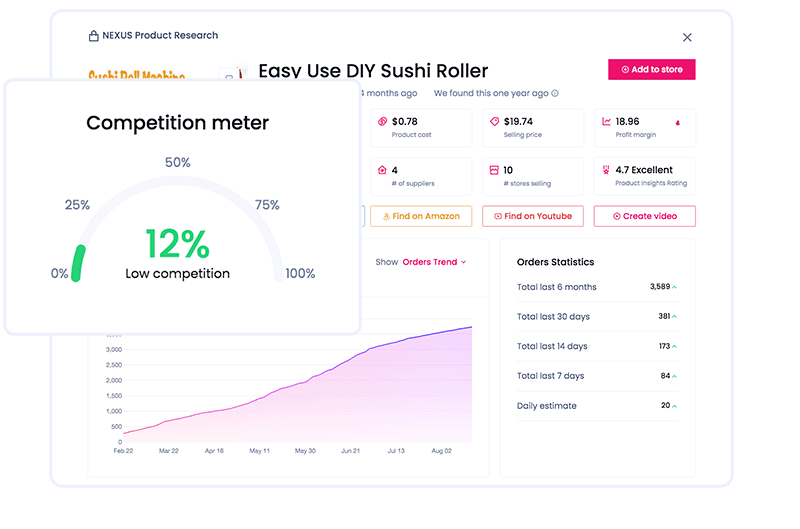 Find Your Lane with the Product Competition Meter
How do you know when a product has too much competition to be worth offering in your store? With our Product Competition Meter, which provides a clear visual representation of how hard carving out your own market for a product will be.
Get Started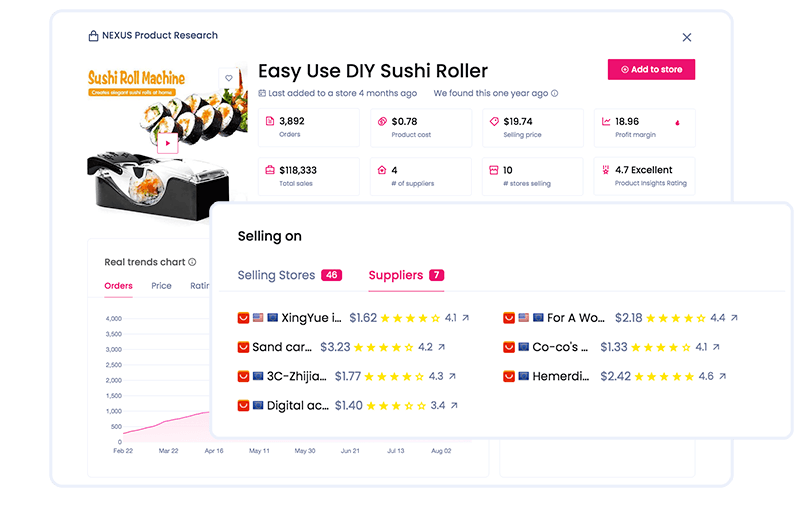 Trusted Suppliers Make Successful Stores
With our Trusted Suppliers utility, you'll always know which suppliers have a proven track record of dependability, fair pricing, and excellent service. Never get left scrambling because a supplier let you down.
Get Started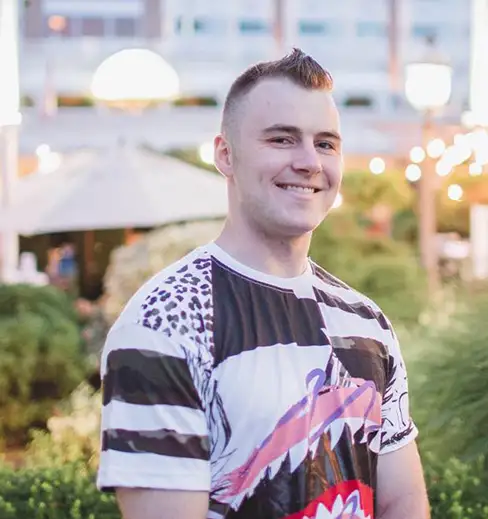 I've done over $100K from Sell The Trend and now have tools for video creation, Facebook targeting, landing page design as well as product research.
---
Kyle Brattan
Member Since 2020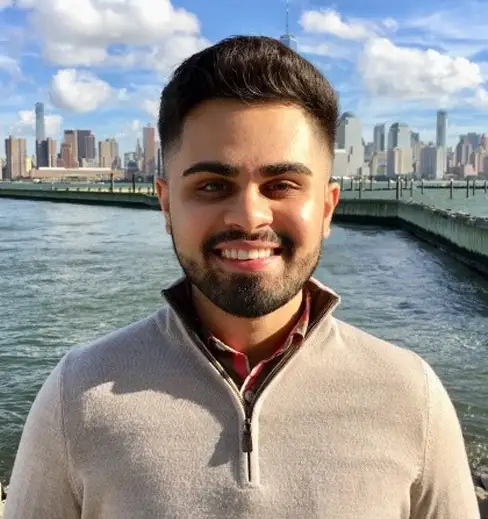 I am projecting products I have found on the site to generate $40,000 in sales by the end of this month. Cheers to Sell The Trend for serving as a platform to easily find winning products.
---
Yash Shah
Member Since 2019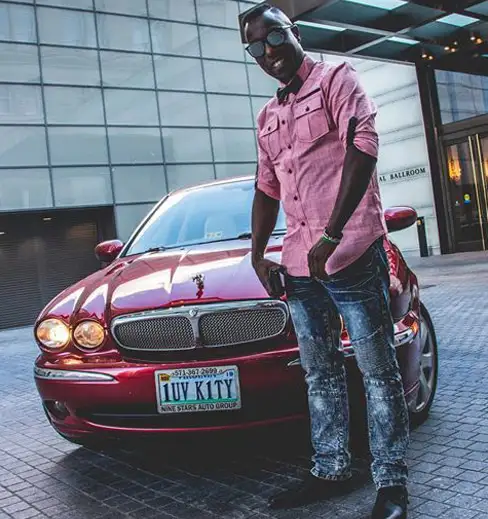 As I close another month with $10,000+ in sales, I cannot forget to thank SELL THE TREND. I want you to know that with persistence, commitment & patience, you can become a "Success Story" too.
---
Nelson Muriuki
Member Since 2020
Frequently asked questions
How do you find winning products for dropshipping?
There are several ways to find yourself a winning product. Explore the bestseller listings of AliExpress, find out what's trending on social media, spy on leading Shopify stores in your preferred niche, or use a third-party product research tool like Sell The Trend to simplify the process of finding winning products for dropshipping.

Note that these are just a few ways to start the product hunt.
What are dropshipping product research best practices?
An ideal dropshipping product must have an emotional connection with the audience as well as good selling stats. Moreover, make sure to order the product for yourself to determine the supplier's reliability.
Why is a dropshipping product research tool important?
A good product research tool provides you with the product's data and insights in seconds that you'd be spending hours to collect if done manually. This way, you can spend your time on more important things than manually calculating the average cost, profit margin, total sales, and competition.
What should you look for in a product research tool for dropshipping?
A dropshipping product research tool must serve real-time data to offer real value to its users. Also, it must back its information with sources like AliExpress suppliers links, Facebook Ads, competitor's Shopify stores links and more.
Check Out More of Sell The Trend's Powerful Features